Anniversary Regatta Cruise
Departure 10.30am
Catch the iconic Anniversary Day Regatta from the harbour onboard Explore's premium cruise vessel Ocean Explorer.
For more details about the Auckland Anniversary Regatta Cruise visit Explore.
America's Cup Sailing Experiences
Departure 1.00pm
Feel the thrill of sailing an authentic America's Cup yacht. Take the helm to help steer on course or work hard on the grinders to hoist the mainsail during this hands on sailing adventure on Auckland's Waitemata Harbour.
For more details visit Explore.
Auckland Harbour Sailing
Departure 3.15pm
Discover Auckland's picture perfect harbour on our relaxed sailing experience. Take in the fresh sea air and the stunning scenery while you travel down the harbour under the power of wind.
For more details visit Explore.
Heritage Sailing
Departure 10.30am, 11.45am & 1.30pm
Set sail on the New Zealand Maritime Museum's heritage scow, TED ASHBY, for an hour-long cruise in Auckland's Harbour. See the city skyline, Sky Tower and Auckland Harbour Bridge from the sea.
For more details visit New Zealand Maritime Museum.
Tugboat Trips
Departure 1pm-3pm
Toot toot! Head out on the New Zealand Maritime Museum's 19th Century steam tug the S.S. PUKE for a short trip around the Viaduct Harbour.
For more details visit New Zealand Maritime Museum.
Charter Operators
Book a charter for the day and watch all the action from the water. Better book early though as there is always high demand on Auckland Anniversary Day!
For more details visit The Red Boats
Scenic Flights
Take to the skies and escape the crowds for a birds eye view of the shimmering Waitemata Harbour and the huge fleet of vessels taking to the water for the Auckland Anniversary Regatta.
For more details visit Heletranz or Helicopter Me
Watch from your own boat
Lots of people take their own boats out on the water to watch the action on Anniversary Day. We do ask that you familiarise yourself with the race areas in the Sailing Instructions, and stay well clear of racing vessels.
Please note the following navigational restrictions which must be adhered to while the tugboat race and display are underway.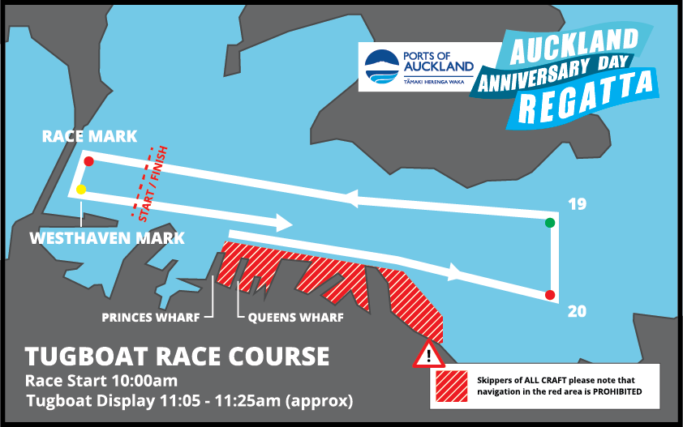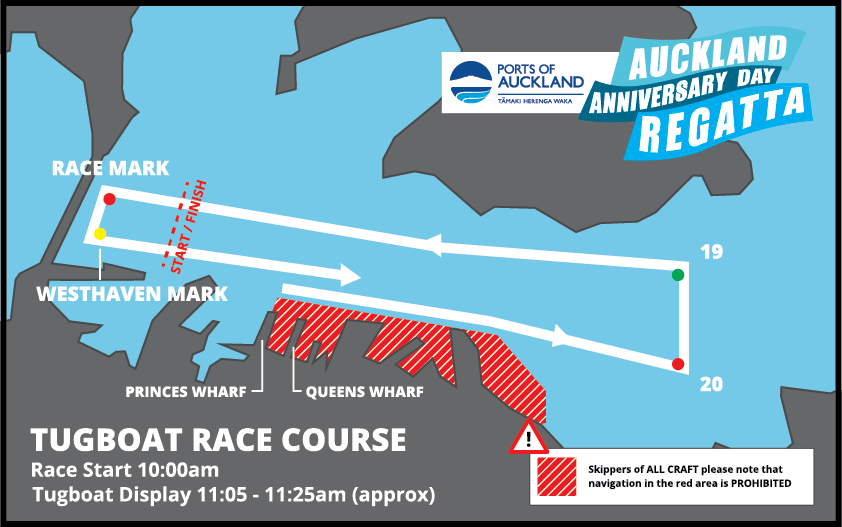 Stay in the loop by joining our mailing list.