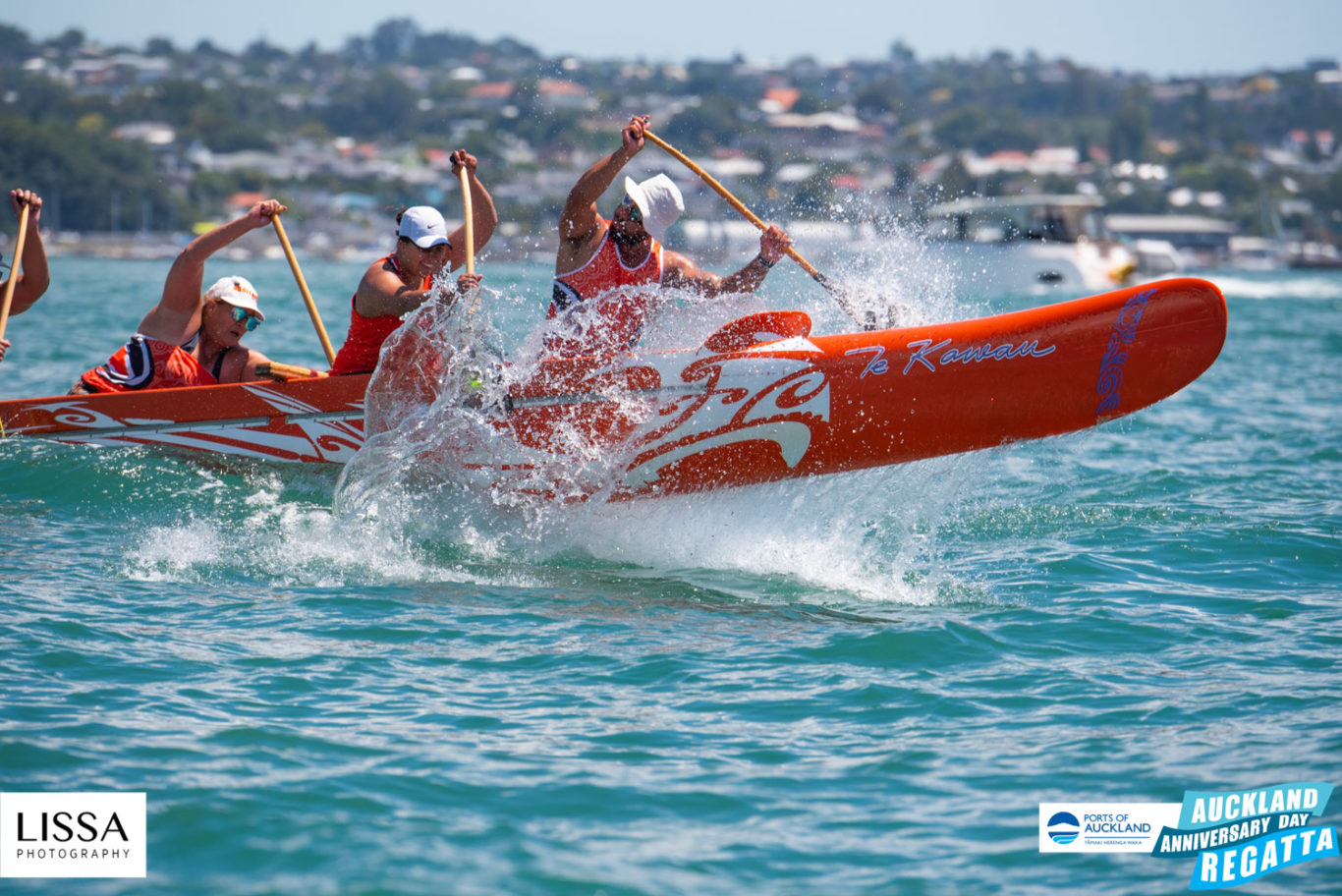 Thank you to everyone who participated in, supported and watched the 181st Ports of Auckland Anniversary Day Regatta
It was a glorious day out, with sunshine, sparkling seas and a lovely sea breeze in the afternoon just in time for the keelboat starts. It would have been ideal if the breeze had held in a little longer until all the yachts finished, but it certainly looked like everyone on the water had a brilliant time. Thank you all for participating, and for your perseverance in a dying breeze.

We would like to apologise to all of you who who didn't see the amendment changing the VHF channel for Race Control. This was an unfortunate but unavoidable change. I know a number of you tried to call in to say you'd withdrawn from racing and thank you for trying. We're really sorry you couldn't get through.  

On a more positive note, this year we saw the biggest number of Waka Ama participants ever taking part in the regatta, which was fantastic to witness, and made for some stunning photos which you can see on our website and social media (see below).

Thank you to everyone who came along to watch the regatta, from the shore and on the water, and the media who covered the event – we really appreciate your support.
  We would also like to thank our hugely generous sponsors, particularly our headline sponsor Ports of Auckland, along with all the companies who generously donated funds and spot prizes towards this year's regatta.

Our thanks also to the organising committee and race officials, who kept everything running smoothly both on and off the water. And a big thank you to the Auckland Harbourmaster, Auckland Police Maritime Unit, Coastguard Northern Region, Royal New Zealand Navy, The Royal New Zealand Yacht Squadron, and all the host clubs and associations around Auckland for your part in making this fantastic regatta a success once again.

Remember you are warmly invited to attend the Prizegiving ceremony at RNZYS on Tuesday 16 February, where our collection of historic trophies will be awarded, cash prizes handed out, and a huge selection of spot prizes will be given away too.

You've got to be there to win, so RSVP now to Joyce admin@regatta.org.nz to go in the spot prize draws, and remember to let us know how many in your party for catering purposes. We look forward to seeing you there.
---
2021 Regatta Results – view here
---
Official Event Photography by Lissa Photography
This year we welcomed Lissa Photography to our media team as our Official Event Photographer, and she has captured some stunning images of all the action on the water.

You can view the 2021 Gallery on our website, or on our Facebook page.

If you'd like a high quality print of any of the images from this year's event, you can purchase these from Lissa Photography, and if you do so by the day after Prizegiving, Lissa will donate half of the purchase price to the Auckland Anniversary Regatta so we can keep making this event even better.
---
Prizegiving Ceremony – RNZYS, Tues 16 Feb
Please RSVP by 11 February to Joyce admin@regatta.org.nz to go in the draw for spot prizes, and let us know numbers for catering purposes. You must RSVP and be there to claim prizes – we look forward to seeing you there.
A huge thank you to Ellerslie Jewellers for kindly valuing and engraving our historic trophy collection. Dating back to the 1860s, these tropies have a combined value of nearly $100,000.
---
Missed any of the action? Watch the Live Stream replay of the regatta
Our video and drone coverage this year was again provided by the talented team at Flyuav. Keep an eye on Facebook and YouTube in the coming days for the edited highlights video.
---
Enter the Youth Spirit Competition
Remember if you're between the ages of 16 and 18 and you took part in the 181st Ports of Auckland Anniversary Day Regatta yesterday, in ANY class, division or race, you can enter the competition to WIN a 10-day voyage on the Spirit of New Zealand, worth $3,500! Thanks to the Spirit of Adventure Trust for putting up this amazing prize.
Stay in the loop by joining our mailing list.